Here ya go! It was nice today, it rained a bit this morning so it cleared out the smog that has been blurring the mountains the last week or so. AND, by the way, I didn't say it stunk where I live, and there aren't any brine flies by our house. BUT, not too many miles away is the Great Salt Lake and let me tell you, depending on the time of the year, there can be a great stench and the brine flies are so numerous, they are unbelievable. The flies can get so thick, they are like a living, moving carpet. One great big EWWW! Brine flies and stink. We just live NEAR the large body of water that provides the smell and all the sea monkeys you can buy. Time for the pics!
The Princess and I took the little kids to the bouncies near our home. A great time was had by all.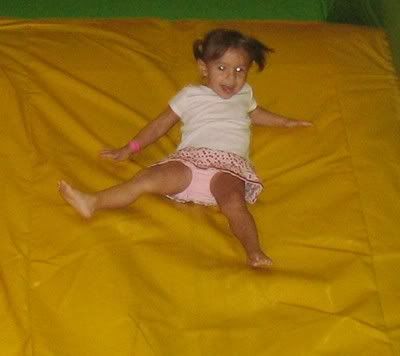 Hey Cousin, let me give you a hand!


Check out the combined piggy tail and tongue action!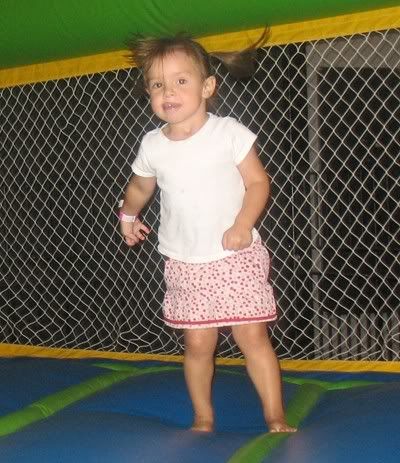 I love this pic, because Little Man is laughing so hard with delight!


We haven't taken the kids to do bounces in a few months. Both the Pea and Little Man are capable of doing much more physically this time than last time. The Pea, cause she is a normal sort of kid, growing and developing. Little Man on the other hand, my guess is he has improved his muscle mass with the intro of the feeding tube and the calories he needs to develop. He had a great time and played til he was so tired. I love seeing him so active and it makes me aware of what a blessing calories are. Yay!

Doesn't June Bug look great in yellow?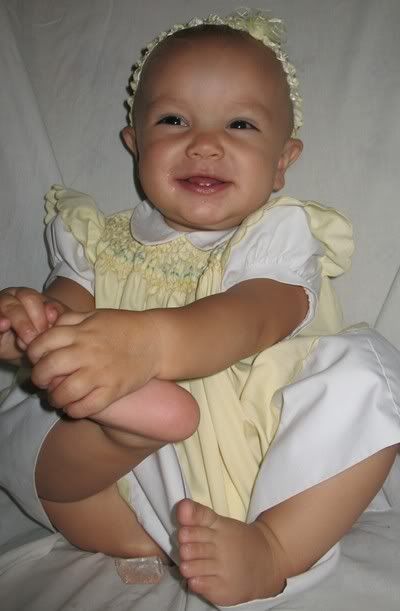 Isn't she darling? She is the cutest little walker you have ever seen!
And that wraps up this week's pictures and commentary. Hope your week is starting out well too!