The unpacking continues apace. It is rather amusing when you consider the logistics of moving. First, I spent weeks obsessed with boxes. I wanted good boxes. If you have ever moved, you need sturdy boxes that are not TOO big, but not too small either. And what is really nice is when you can get most of them about the same size, it makes stacking so much easier. I spent MONTHS packing things up. One day, and EVERYTHING changes. Now I hate those boxes I spent so much time lovingly and obsessively collecting, and I want them OUT of my space. This is a good lead-in to a cute pic of Little Man among the boxes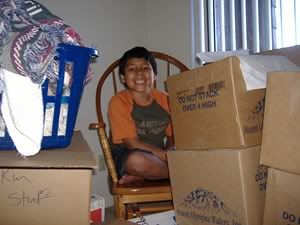 So my life is the opposite of what it was a couple of weeks ago, now I am expending much energy UNPACKING those very same, gosh darn, boxes I spent so much time packing.
We have a deadline to get the living room and other bedroom finished. Friday. That day, pygmy Child returns from Ecuador and Brown Boy follows quickly on her heels the same day to stay with us through the fourth of July. By the By, Pygmy Child called the other day and said she is enjoying the translating for Operation Smile, but she isn't getting enough fresh fruits and veggies and is tired and is looking forward to coming home.
My computer unpacking is coming along, we purchased a new puter desk, so the puter is off the kitchen table. Now I need to hook up the wireless part so we can unplug the phone cord that is snaking down the hallway and tripping the unwary. I obviously got my camera to unload, (with a certain amount of disappointment, I was hoping it was broken, I really want a new one, but can't justify the expense.) So here is the picture I promised of my funny needle felting class I took last Saturday. He is funny little man and I call him Figaro.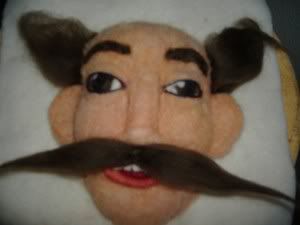 Can't you just seem him tossing a pizza or serenading you at an Italian restaurant?
And Taaa Daaa! We managed to get another washer and dryer without breaking the bank. They are old, but they work and they cost very little. No more laundry room for me!
We shan't discuss WHY we had to get another washer and dryer since it involves a certain bald someone in my house making a decision I disagreed with. I am just so glad to have them again, I am not griping!
JJ is having a hard time right now emotionally. He is angry and shutting us out. I am sure the presence of the brain mass is a part of what is going on for him, but he won't say. He refused to do the EEG and at this point we don't have a way to force him. I am hoping some time will help him do better and we are working on getting him into some counseling and hoping it will help.
Little Man is doing okay in his summer program. I must admit some amount of frustration with the staff. This is a program specifically aimed at helping children with disabilities and they are sometimes so clueless on how to handle him. He is enjoying some of the activities he has done, like swimming twice a week and bowling. Me? I am just enjoying the luxury of hours a day of me deciding what I am going to do with my time! Bum, bum, bum, de bum, I am a bum and I love it!
And finally in spite of the fact we moved about 7 or 8 miles away from the kids, my fear of not seeing as much of them has evaporated. With the addition of a pool, cable TV, high speed internet and central air, we are seeing them MORE than when we just lived 2 miles away. Sometimes too much. I had to kick them out last night so I could collapse in bed. A final picture to share. Miss Pea, who already knows what to do with a phone!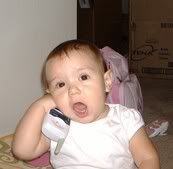 Hoping you all have a great beginning to your week too.