The mountains? Yeah, not soooo pretty today.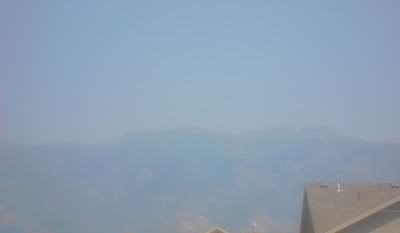 There is a large fire in Central Utah and the smoke is blowing our way. It is ugly, smokey, smoggy and hot here. There are other things here though, near the mountains, that are much more enjoyable.

First the obligatory pool pics.




Princess' babysitter called in sick on Sat and today. I love my little stink bug, but it is messing up my routine. So grandma filled a little pool for the little precious to play in!

And now, the big news at Casa De Tangled. Raising a child with developmental delays doesn't mean they will stop developing. Kids like Little Man develop slower than other kids, and there are certain things he will probably never do. The uncertainty is the part that makes this even more miraculous. A precious moment, it brought tears to my eyes. What a kid.
We wondered if he would ever get there. This weekend he did.