And according to the gender genie I blog like one too. In spite of my lack of fascination for some of the more girly things like shoes, make up and jewelry, the way I talk identifies me as being of the female gender. So go ahead, try it, post it, I want to hear if you blog like a girl or a boy.
And you know what? Not only am I a girl, woman, I am also a GRAND mother. You will have to excuse the lack of a mountain monday this week and instead I will share with you my little slices of heaven. Although in my defense, the pictures were taken in the apartment which is nestled in the bosom of the beautiful mountains.

A double scoop of sweetness: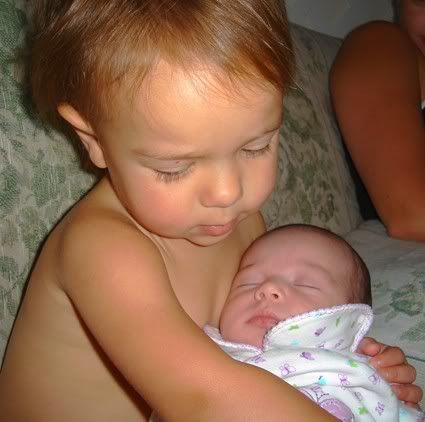 Little Man was at his summer program so there was no hollering yesterday. Whew.

I have been teaching the Pea how to scoop water in a cup and dump it on my flowers. I left her on the balcony and just watched to see what she would do. First she stripped and then she did this:




Do ya like the strategically placed flower?