Let's face it my darling peeps. My life is vile. And more directly, my beloved little man is vile.
Remember the blog rating where my blog was found to be R-rated and not suited for children under the age of 17? For the use of the word "poop" too many times. Poop is large part my life. I talk about, I stare at it, I wash it out, I clean it up, I try to contain it, I try to make it come out, I rate it (color, consistency, amount) I call doctors over it, I discuss it with the Bald Man, daily, I discuss it with others at least weekly, other people ask me about it, poop is huge at the House of Tangled. The daily rhythm of my life is not suited for children, and I don't even watch R rated movies, they offend me too!
Others choose to be offended by the poop of my life. Others choose to judge the poop, crap, fecal matter, bowel movements of what my day to day life consists of. I don't even have to swear to make it offensive. Seems as though my son's very existence and the way he IS, offends. Well guess what? Sorry and stick it up where ever you choose. If you have an opinion about it, shut up unless you are willing to come over here and relieve me of some of the vile hours of my days.
Now I am sure my beloved readers are wondering where this rant is coming from. And I assure you, it has nothing at all to do with ANY of you. Sadly, the ones who should read this post never will. But the good of doing this is, I need to get this off my chest and I know I will feel better once I do.
For any new readers and some older ones, please buckle your seat belts, keep your arms, legs and any other body parts you wish to stay attached to, inside the vehicle. We are going for a ride on the honesty train.
People seem to be under the assumption that children with disabilities are "special" and I mean, sweet, loving, holding flowers, blowing kisses and waving at others with a sweet and age delayed hello from their wheelchairs. Angels, precious little angels. Yeah, whatever. If mine is an angel he works for the other side. He is mean, angry, violent and destructive. He has ODD. Please read the checklist. See those 8 characteristics? They rule my days. Everything is a battle. I am not exaggerating, I wish I were. Every day, we fight to get him showered, dressed, hair combed, meds ingested, teeth brushed, shoes on. Each one of those things is a battle, every day. And like many battles, some are small, and some are large, depends on the day. But I will tell you now, he always resists each and every one of those things, every day.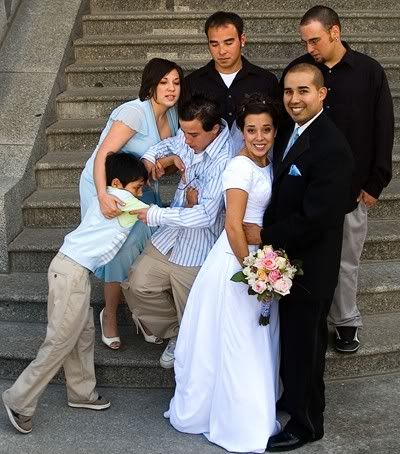 Daily, I am hit, I am scratched, I get called names, I get spit on, I get my hair pulled. Some days more than others, of course. Daily, I clean up pee and poop from clothes and from other places. He refuses to move his bowels without being forced to do it, often needing to be threatened with a time out or stopping a game or show he is watching. I am forced myself to deal with it, because he has soiled his underwear, again. On the weekdays I only have to do that 2 or 3 times. Weekends are oh so lovely, cause then I get to do it, usually at least 6 or 7 times daily. Even though I am saying "I", let us not forget my Bald Man who has to deal with it every day too.
We have been told, more than once, if we decide the job of parenting our boy is too much, he will be institutionalized. There just aren't a lot of places for children like him. He is hard, very hard.
In spite of all of this, we love him, we love him enough to deal with all the crap, every day, and still love him, not for what he does, but for who he is. A child, our child. We love him enough to dread that a day might come where we can't do this anymore. My deepest nightmare I pray I will never face. Enough that we have had only one weekend, away without him in almost 10 years. We love him enough to want the best for him, to rejoice for the things he accomplishes, like riding his bike. We love him enough to find the miracles. We love him enough to not hold a grudge when he is being ugly, so when he feels like it, we can still cuddle him and tickle him and laugh with him, even though just five minutes before, he had scratched me and told me I was stupid.
I deal with it in many ways. I talk to other parents who understand, who let me say what I need to. If I complain, they know I still love the boy, but he is driving me nuts right now! And if I have something to be happy about, no matter how small, they are happy with me. I blog about it, obviously! Knowing you love me and care about my family too. Another one of the ways is my black humor. I know you think the best of me, and if I say something in print, or on the phone, you know I would never say it to him. It is important to me that I acknowledge how tough it is, how difficult he can be, because if I pretend that everything is okay and he is oh so sweet, then I am being such a liar and I just couldn't do it.
I need to say it is hard and I do it anyway.
He is my Vile Child. My Beloved Beast. He is hard, but I love him anyway.