First off, I have to thank all of you wonderful people out there. For enfolding me in your bloggy arms, and giving me the love and appreciation I was so needing. Sometimes life can get you down,people can be such jerks ya know? With all the wonderful comments and virtual love, I am feeling better now and that is all that counts.
That fire? The one that made my mountain pictures so ugly last week? Turned into the largest fire in Utah history. The air is starting to clear, but as you can tell, it isn't entirely gone.




I thought perhaps some sheepies would make the mountains look a wee bit better. Kind of like having your kid stand in front of you in your family pictures, so no one can see your unsightly bulges.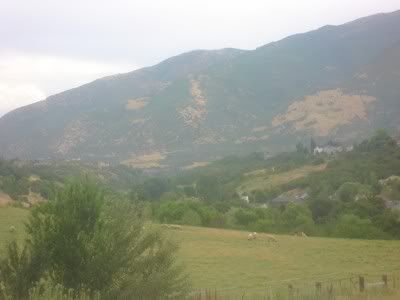 Like real life, the sheepies hid nothing, ah well!

Jo in Utah is feeling rather under the weather. The Princess and the Pea gave the gift that keeps on giving. The stomach flu. Remember last week when I was watching my Pea? Yeah, much vomitage ensued. After the Princess took her home, I scurried around the house with anti bacterial wipes and Clorox clean up. Yeah, what ever. Little Man began the vomiting on Friday night. I got up on Saturday feeling less than stellar. You know the worst part about Saturday? It wasn't even that I was getting it, it was that we had respite, for the first time in months and we couldn't use it. Booohoooo! I am still feeling a bit yicky, but it is improving.
So the end of my post will be the usual incessant Grandmotherly sharing of my new grand daughter, June Bug. Enjoy!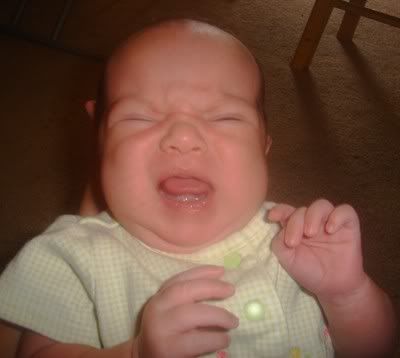 Don't ya wish you could just squeeze her cute little leggies and kiss those great big lips. Tell ya what. I'll do it for ya!