For those of you who guessed that my post title Food, Glorious Food from a previous post was from the musical Oliver, you get a gold star! An imaginary one, but a gold star none the less.
Today is a stellar day. We have poo today. Those of you who have hung around these parts for a while, know that our lives revolve around poop. When you have a kid with low motility, well, it just becomes really important. The last few days, it is has been sparse on the poo side here. Enough to make me worry. Enough for me to wonder if we were going to have to go to extreme measures to make "it" happen. But in the wee hours this morning, well, "it" happened. Whew. Close call. Much laundry has ensued, BUT, I would much rather do laundry than some of the other things that were on the list.

And now, I was awarded this: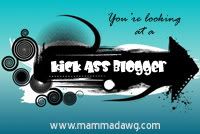 By a fellow grandmother and all around kick butt blogger herself!
Deb from Postcards from the Edge

I now nominate:
Holly from Walking In My Shoes for being not just a good blogger and amazing mama, but for being a good friend too!

Jill and Kristina for being a couple of the funniest bloggers I know, and for always making me laugh.

Eliza's Mom for being an all around good blogger. Karate and vegetarian and mommy and cat lover and funny, what isn't there to enjoy?
And finally, K because anyone who survives a week with their spouse out of town when they have 5 kids 4 and under and newborns, deserves not just an award, but a medal and maybe a trip to the looney bin spa! But this award is all I have for ya!
Now click on the linky, sign up on the list, and swipe copy the code for the button. Nominate 5 others and don't forget to mention me!

Bald Man and the kids who could get time off work left this morning to go to my father in law's funeral. They will be there through the weekend. It will be just me and Little Man. I am a wee bit worried about doing this all by myself. I sometimes leave Bald Man with the boy, but he NEVER leaves me, so this my first time solo for days in a long, long time. Pray for a safe journey for them.