Today's post is about the cute. I will definitely save the cutest for last, to give you a chance to prepare yourself.
First off, Needle felting! I went to my friend, Drama Mama's house to introduce her to the joys of crafting from wool. Here she is, with her first project, a snowman!
She is throughly addicted now and I took her monday to my favorite drug wool dealer, and set her up with all the necessary things to needle felt.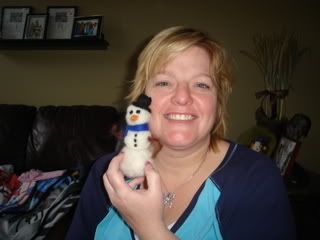 And then, to add to the whole needle felting cuteness fest going on here...I ordered a DVD from the Owning Alpacas blog. It is called Needle Felting a Dragon. And after much thought and pawing through my wool stash, I have finally chosen the colors for my new project.




I will keep you posted on my progress as I go along. I am very excited to start it

And then.... what you have all been waiting for. The peak of all cuteness. Watch out, because I really think this might be a lethal dose of cute, and I am not kidding!








Personally? I gotta go catch my breath after that!