Usually Mondays are my very favorite day of the week, and I fully expected today to be extraordinary since I had had Little Man home for the last week and half. Uh yeah, not so much. Princess had a job interview and didn't have her cell phone on her, so I ended up with the Pea from 10:30 until 4 this afternoon. So my Monday did not even come close to meeting any of my happy expectations. I am quickly posting this, because Little Man will be home in less than an hour and that will be the end of that. Don't forget to add the fact of my dryer giving up the ghost yesterday. Yah know, this week isn't looking so hot. I am really hoping tomorrow will be much better. I am still a bit tired, but not nearly as tired as I was on Sat.
First, the egg story and then I will leave you with the usual Monday fun pictures.
We had a formal luncheon after the wedding and they served us these spinach salads that had straw like mushrooms, cherry tomatoes and two hard boiled egg slices. Little Man is allergic to eggs. But that has never stopped his fascination for that which he is not allowed to have. We have to watch him, or he will be in the fridge breaking eggs whenever he gets a chance.
I scooped those eggs slices off his plate and ate them. He mournfully looked for his eggs under the spinach leaves, saying all the while, "you ate my beautiful eggs, I wanted those eggs, I like eggs, why did you eat my eggs, where did my eggs go?" I am not kidding you that he did not stop about the &$%# eggs for the ENTIRE lunch. I was ready to strangle the child, but sitting in the front at the table of honor meant I was being watched, so I just kept hissing at him through my teeth to BE QUIET or I was going to get very angry. Didn't help a bit, but it helped me let off a bit of steam. Eggs... humph!
And now, Mountain Monday!!!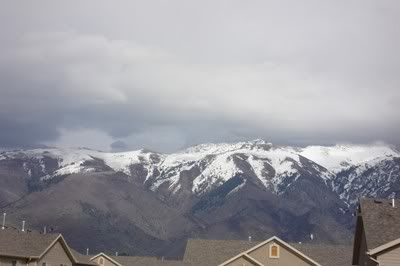 A picture from opening presents on Saturday with the happy couple:




And a very cute picture of the Pea from Easter Sunday: Note the circled area. Cause? A nap!