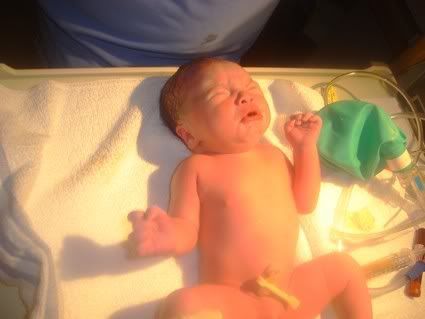 Her Royal Highness The June Bug came into the world in the wee hours last night. Her final uterine act was to keep EVERYONE up all night. Hopefully that will be the last of her little dramas. She weighs 6 lbs 12 oz.
Wow what a night! I went over to the hospital about nine last night and was immediately put to work as labor support. Girlfriend did an incredible job. If you had bet me money I would have said there was NO way she could/would have done an induced labor for as long as she did, unmedicated. But she did. The other grandma helped in the laboring department and I must say, the two grandmas rocked the house. Girlfriend was sorely afraid the two of us would fight with each other. With good reason. Other grandma is a nurse and me as a midwife, and we are both outspoken and well, yeah, Girlfriend's fears were not unfounded. But the day was all about the Girlfriend and both grandmothers not just comported themselves with dignity, but with compassion and love. By the end, we were hugging and crying together. June Bug had some troubles getting her breathing together and had to spend a couple of hours in the nursery being watched, but she eventually decided to behave and breath well. I am so proud of my son and the way he lovingly supported the mother of his child through her very long labor. Dang, I am proud of both of them. I had kept saying how much I wanted June Bug to inherit her mommy's luscious lips and guess what? She did! Look at those pouty lips. Can NOT wait to smother them in kisses.
Here is one of the new family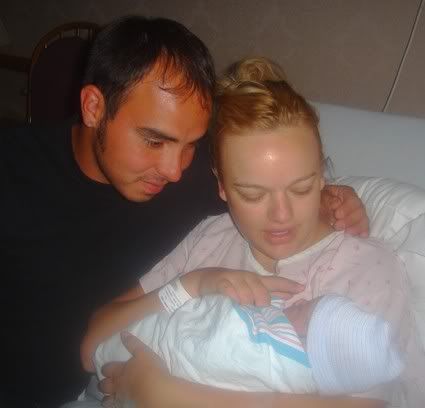 And this picture proves how much I love you, my bloggy darlings. I am willing to post a very unflattering first picture of the Grandma and her new grand daughter.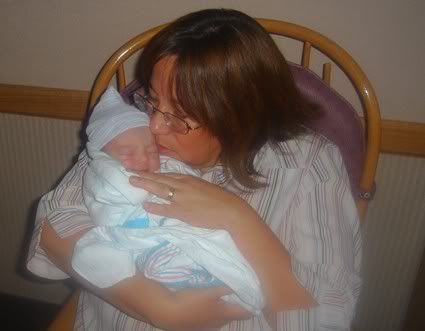 Please do not try to tell I look fine, if you tell me I look just fine, I am going to start wearing a paper bag on my head so I don't have to torture people with my mug. Not a good picture of me, but it is a very good picture of how very much I love this dear little person already. I am blessed.