Jenny asked for a picture of Brown Boy's shoes when he deplaned. Here they are.
Now my whole family is awaiting for the mystical fortune telling by our beloved Jenny on what exactly those shoes mean! Kind of reddy brown sorta bowling shoes.. Well Jenny?
Brown Boy passed our family tests with flying colors. He was polite but obviously smitten in a good Mormon boy way with our Pygmy Child. Being raised LDS if you behave yourself means, you will be celibate until marriage. And by way of TMI (too much information) Yes, Bald Man and I were good Mormons and we behaved ourselves until our wedding day. Not that we were not tempted, but we felt strongly about it, so we kept our hands pretty much to ourselves until that day.
The chemistry between the two seems of the normal variety. He did say that our family was pretty silly and interactive. We are very hands on, lots of tickling, wrestling, hugs and kisses in this household. We tease and have a lot of insider family games and jokes. Brown Boy said he enjoyed that about our family. He even got to witness Little Man at his absolute worst at the Picture Taking Fiasco and didn't run screaming, so he must really like Pygmy Girl!
By the way, in spite of Little Man's not so great behavior, I am so pleased with the picture we got out of it. All the portrait place gave us was a tiny computer printout of it, but I went ahead and scanned it in. That amazing picture taking lady even got Little Man to smile! Wow. Small taste of what is to come in a couple of weeks for your perusal.
Pygmy Child expressed her continued approval of Brown Boy. I also had a chance to speak with Brown Boy's mama, who was very nice also. I told her she had taught her son well and he was a credit to her teaching.
The romance continues.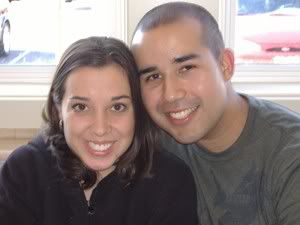 So what do you guys think? Will they or won't they?