I need to do another post because of Caer.
My last post (below) is depressing and whiny. Caer did some links to me, so I, in case I have some new visitors drop in, did as any good hostess does. I threw all the mess under the bed and jammed the rest in the closet while spraying Oust at the same time. NO NO! I tidied up my blog a bit and I feel the need to have it look a bit cheery and welcoming. If my first read was the last post I wrote, I would NEVER come back, so here goes!
First off, the Rattie Hatties I made are not knitted. To clear up any confusion, I can not knit, I can not crochet. I have been known to sew a bit, but that is all. Well at least until
needle felting came into my life. Such a lovely crafty thing and it makes me feel so creative. Here is one of the latest things I learned to make: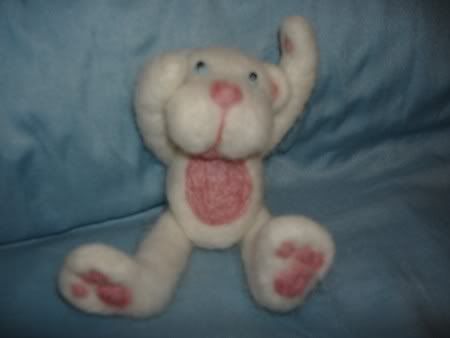 five way thread jointed no less! Go Jo!
The Rattie Hatties were fun to make and I enjoyed sharing them.
So on to the title of my post. What do you get when you cross Ray Barone with Tim the Tool Man Taylor? You get Bald Man, my husband. Do you need proof? That is coming.
Now Bald Man and I have been married 26 years this month, a feat to be sure. But sometimes I wonder if he has learned anything about women in those 26 years. A couple of months ago I had to surrender to the reality of my advancing years and switch to bi focals. It is really terrible not to be able to see close or far and at some point, your arms are just not long enough and/or you just don't have the time to bring things near and far to your face until they are in focus. Do you want to know what my dear sweet husband had to say about my bifocals?
"Wow, with your gray hair and bifocals, you really look like a grandma now!" I almost slugged him! And honestly, he was so surprised that I was angry and hurt about the comment. Men! Hmpppfff! That was his Ray Barone moment. But what he didn't know, was Karma was heading his way. Bald Man is a handy man kinda dude and he was wrestling with a door frame while he was on some steps above it. Guess who won? The door frame. Guess who lost? Bald Man's nose! And here is the proof:
My husband, Ray Taylor, or Tim Barone as you wish.
And lest you should think I am making fun of him behind his back, after he did it, he asked me if I was going to blog about it and I replied I would like to, so he gave me permission. Probably so I would let him sleep in the bed again, but it worked.
If you are new, welcome to the always interesting if not fun adventures of Tangled Me. If you are one of my golden oldies, you know I love you more than life its self.