This peeps, is where I spent yesterday and where I will spend a good portion of Valentine's Day: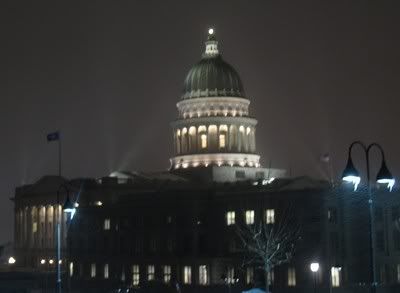 Our state capital. I have been invited to do some lobbying on behalf of some causes near and dear to my heart. Could you think of any better way to celebrate Valentine's Day than by showing people how much you really love them? I can't.
The very best part of yesterday was getting to attend a rally on behalf of the 2nd parent adoption bill. I got to meet some of my favorite bloggers!

Two moms a turtle and a butterfly I recognized Jackson before I recognized his moms. Alyssa was harder because her hair was so short, post-self-haircut. They are both beautiful and it was way fun to meet them and support them in this cause for their children.

Next:Role Playing with Kids K was the delightful one who invited me to the rally. I got to see her cute lil baby bump and her delicious kids. I also got to help chase down Spence and Cam, and tickle Syd until she was charmed with me.

Whatever your feelings on homosexality, the important part of this bill is the protecting of children. By allowing second parent adoption, you give children access to another parent who WANTS to help take care of them, death and disability benefits, inheritance, health insurance, things I have taken for granted for far too long.
K is the one who has opened my eyes to the world of privilege that I wander in without a second thought. As a straight married person, I am my husband's next of kin, he is my children's father. We didn't pay a lot of money for the privilege, it happened when we got married. This protected place where her children are NOT allowed and it is not okay with me! I am not threatened by people loving each other. I am, however, very threatened by a society that refuses protection to the children. They are our heart and soul, our hope for tomorrow. Please join with us and support HB 138 in Utah. Make sure all children have a protected place to live. Thanks K!

*******Don't forget!******** Tomorrow is Fix-it Friday! Shoot me an email or a comment and I will be sure to send some bloggy love your way! Wait til you see what I have planned for the next couple of weeks! I am just all excited! Thanks to everyone who partipates, either by posting or visiting other Fix-it people.