On the Rez, (reservation, which for the newbies, most of my family continues to live on) today is a day off and is called Native American Day. Personally I like to give my respects to the man who started illegal immigration. I find the whole brou-ha-ha going on right now about fences and the outcry to truly be amusing. I think it is funny for one immigrant to call another illegal. For me? Indians have a long memory and I think it is only a matter of time frame if you do not orginate from America. Remember to be kind to those who got here later than you did. And if you have never learned the truth about good 'ole Chris, here is a link for your edification. Enjoy.
The truth about Christopher Columbus
Today is Monday and the mountain from my window has the top shrouded in clouds. Laying across the folds of the mountains, like a grandmother's thick shawl tucked against the cold frosty mornings.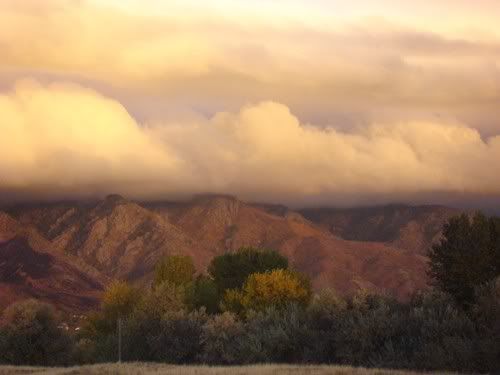 Here are a couple of sunset pictures I couldn't resist sharing. These are overlooking the Great Salt Lake.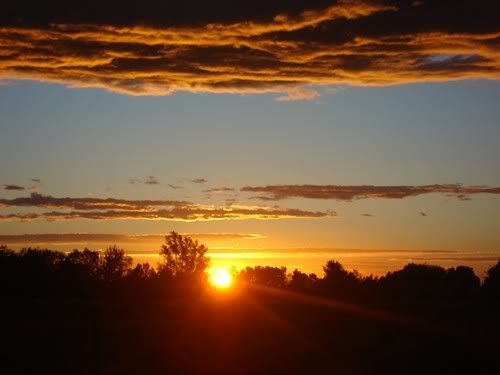 And one more: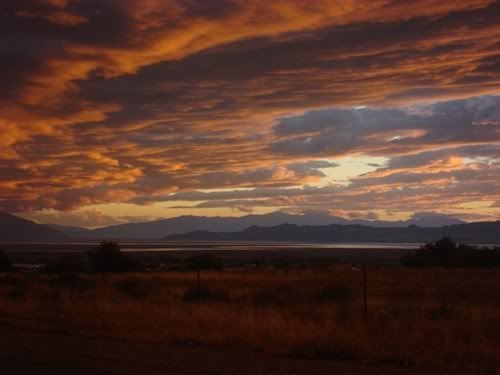 Pretty huh? I am enjoying looking at my beautiful countryside through your eyes. I see things and think "I should share this with my bloggy friends". I notice things I wouldn't have before, beautiful pictures I took for granted. But with my bloggy eyes, they are brand new. Thanks!
Don't forget to go check out my guest post on
Feminist Mormon Housewives
.