Ah yes, such a productive day! Shhh, don't tell anyone, but I went back to bed and took a nap after everyone left this morning. There really isn't anything quite as restorative as a good nap. But on the list today to get done was something I could no longer ignore. Sigh. I did some grocery shopping at the 100$ Store. Ya, know, that BIG warehousey store. We call it the 100$ store because you really can't get out of there without spending less than that.
I guess I bought too many frozen things, because when I got home there wasn't enough room in the freezer for everything. Which means, oh no, I have to defrost and CLEAN the dang thing. Now in our house, (as compared to the apartment we have been living in since June)I had a very nice side by side fridge/freezer. And downstairs in the basement? An older but HUGE upright freezer. I am not used to curtailing my shopping habits for room. Part of the room issue is my freezer in the apartment is NOT a frost free. So between stuff that needed to get chucked and the ice, yes, I was forced, against my will to defrost and clean the dang thing today. But now it is done, it is clean, it is roomy and I am feeling quite self righteous about the whole thing.
Now on to the fun stuff. The "W" word? See if you can guess. When you become a mother for the first time, there are so many things you dream of as you hold your little one in your arms. First steps, drivers license, proms, sweet dreams of a future yet to be. If you are the mother of a girl, some of the dreams are very special. Personally? I am loving having one of my dreams come true.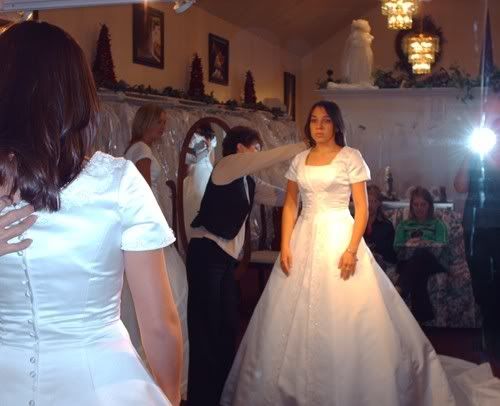 Isn't she beautiful? 25 is a good age to be married. Not too young, like her mother. It really was so much fun to go shopping with her. I was able to snap off that one pic before I was told NO pictures. Opps. But the older lady obviously doesnt' know digital cameras, or she would have told me to delete it. But she didn't, so I have a precious picture memory of one of many upcoming days as we plan a very special event.
One more, just for fun!
A wedding. Wow. Not real sure when my kids got so old, but it happened. Now this event to plan, mostly likely for the spring. One of my little birdies is going to fly away. If this is what it is all about, what parents spend all these years working towards, (independence) why do I feel so sad? Now I know why the parents cry at the wedding.