I have decided to make the view from my window a weekly thing. So you are now going to be treated to a picture of the mountains outside my window, every Monday. Lucky ducks, all of you, but especially me, who gets to see it in real life every day! So without further ado: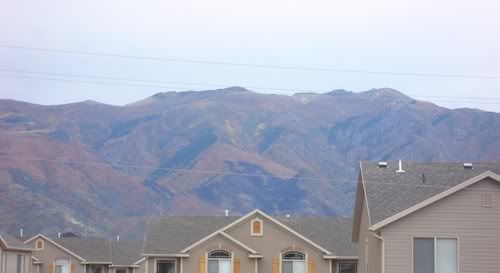 The early snow melted, but if you look close you can see scarlet and orange on the mountain as the colors are changing. One of the things Utah is superior to California in is 4 Seasons! Yup, four glorious, undeniably, delineated, seasons. We woke up to a gentle rain this morning and the air smells so wonderful. Happy Monday indeed.
On to the weekend news, brought to you courtesy of valium with a shot of whiskey. No, no I am joking, but I might have made it through the insanity a bit less ruffled if I did imbibe.
Brown Boy was here for the weekend, so that always makes it crazy. Reshuffling of bodies, meals, etc. But they are happy. Need proof? Say no more!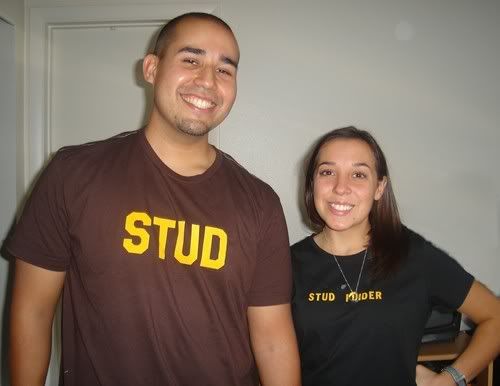 And the big M word is coming up in the conversation. So perhaps in the spring? That would be nice. We approve. Pygmy Child is 25, will be nearly 26 in the spring. Nice age to be married. Not too young as so many of the youngsters in Utah usually do. 19 seems to be the preferred age. ACK!
I did have a chance to get a gift
needle felted
for Brown Boy's mother. I am quite impressed with the increase in my skills and creativity. I did the pumpkin with no pattern or anything!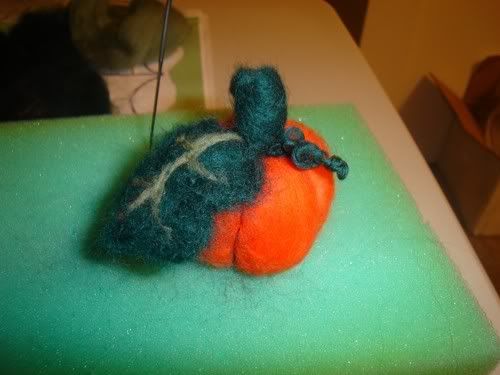 I am quite addicted and it is so relaxing and fun.
A big announcement for me, I am going to be published! Well sort of. Not paid for and on another blog, but still! Recently I found a place of like minded people and I have been happily reading along. The blog is called
Feminist Mormon Housewives
and I love them. They are doing a series called, "A Day in the Life Of" to be featured every Sunday. My piece is entitled, "A Day in the Life of a Special Needs Mommy", so watch that space for the next few Sundays. I will give you a heads up when I see it.
Little Man is doing well physically and seems to almost completely recovered from the effects of the Chemical Lobotomy given to him by the idiot doctor. He is not sleeping terribly well, because he isn't going to bed until 11 or so every night. That isn't good, but once he is asleep, we are gratified to note he is sleeping well and not waking up ninety billion times in the night as he sometimes does.
My beloved Pea is learning so many signs. Bear, baby, fish, dog, please, thank you, more and they are all so cute. A bit behind on the talking thing, but her mother was slow to start too, since physically she was so ahead of the pack. Did I tell you Pea is doing somersaults all by herself??? The child is amazing, really!
Ah, and guess what? Princess dumped Pinhead! Oh yeah, doing a happy dance here. Two things she said made her re-think her decision. One, she saw Pinhead's father go off on Pinhead's mother and it scared her. (Verbally, but still unacceptable) and Pinhead's mother told her she felt very trapped in her marriage. Princess decided she wasn't that desperate, so Pinhead is heartbroken and our family is celebrating a near miss. wheewwww.
So there ya go, all the news that is fit to print.
I love the quiet of Monday compared to the noise and chaos of the weekends. I am off to enjoy a bit of chocolate and some reading before I do anything serious.
My love to all my bloggy readers!