It is my birthday. I swear I have no idea where the years went, but for heaven's sake I am 47! Yikes that just sounds rather old. (Apologies to any out there who are older) I am so far, having a wonderful day. Most of my kids remembered it was my birthday, my forgetful but loving hubby remembered and reminded Little Man. I have gotten quite a few phone calls with happy wishes, a gift from my visting teacher and best of all, a sushi lunch with my beloved friend, Drama Mama. She is really busy and we rarely get any time to spend with each other, so two hours with Drama Mama is a gift indeed. Add a nice lunch as part of the present, and so far, my birthday just rocks! Thanks Drama Mama!
And now, on to Fix it Friday!
First off, we have not only our cutest and favoritest sous chef, Eliza!, but we also have Eliza's grand mother making an appearance for Fix it Friday. We feel quite honored. Go on over, and enjoy the cute, cute pictures AND the delicious recipe.


Fix-it Friday
Inspired by Eliza's Mom, while I was making dinner one night this week, I decided I might as well take pictures and share this for my Fix-it Friday!
Here ya go. Homemade Egg Noodles. For me, it seems just a wee bit silly to share this, because they are beyond simple and easy, but I forgot, not everyone knows how to make them or how incredibly easy they are. My kids would all keel over dead from the heresy of storebought noodles in my homemade soup. They adore these fat, chewly noodles. So, for your pleasure and enjoyment: Noodles.
First, ingredients. (You are going to die)
Flour.
Eggs.
That is all. Salt if you insist, but I don't put salt in mine.
2 eggs for every cup of flour. 2 cups of flour is more than enough to make A LOT of noodles. I kinda forgot. I used 3 cups of flour. It made too many noodles. I threw dough out. I would feel more guilty if it hadn't only wasted like 30 cents.
Mix. Dump out on whatever floured, large surface you will be rolling and cutting on.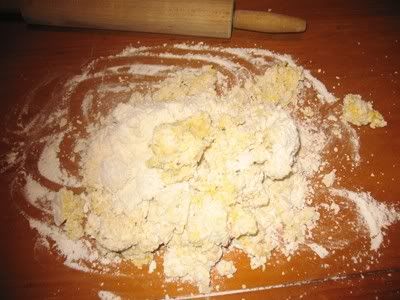 Knead it all together. You want it mostly not sticky, just a little sticky. Or not, whatever floats your boat. Don't worry if it doesn't turn out, it is an inexpensive experiment, and quick, so you can whip up another batch if it totally sucks.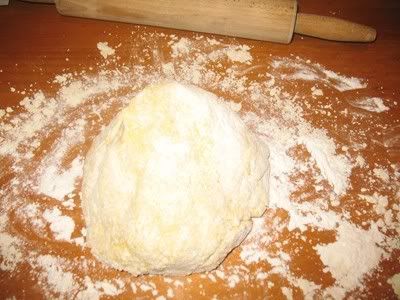 Mixing just a bit more:
Flour your rolling pin and roll it out.
I roll it and flip it when it is smaller so it doesn't stick.
Roll it out as thin as you can. The noodles get fat when they cook. My hand is there so you can see how very big it got rolled out. (3 cups of flour. Don't do that unless you are making literally gallons of soup)
Cut the strips very thin. They get fat, don't forget.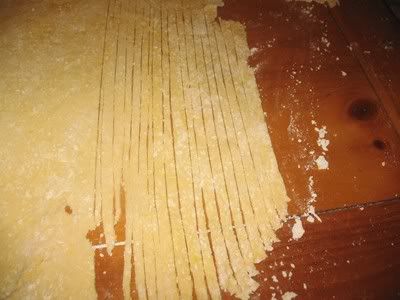 By this time they are sort of stuck to the surface, so I use a sharp knife to help me peel them up.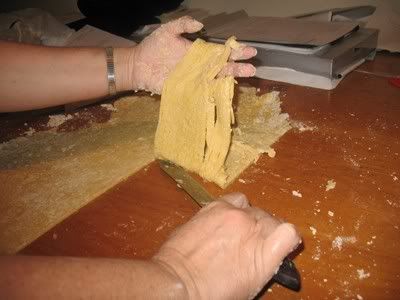 You can make them as short or as long as you wish. I then flip them over my hand and take them to the boiling pot of soup. They only take a few minutes to cook, so leave this til the last.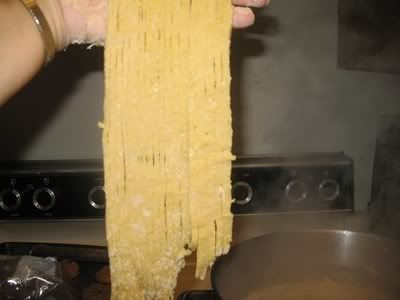 Peel them off one by one and drop them in the boiling stock.
Tada! Yummy soup! With fat, chewy noodles. Easy peasy, no?
If I did a horrible job explaining this, feel free to leave a question and I will do my best to explain it better! Happy Chicken souping to all and to all a good night!