Hey, hey, hey, all you you bloggers. It is Friday, again. And Friday means Fix-it!
First, off to a view from the hill where she links to a place where you can FLING penguins. I mean really, what could be more fun??

And next. You, yes YOU, have the opportunity to fix ME! As you all know, I have a HUGE job interview next week. I did some serious shoppage this week, one, I needed something a bit more upscale for my wardrobe, and two, I needed the confidence you get from looking your best. Now, you, my darling bloggies, get to help me figure out what I am wearing and when. Please, if you have any particular fashion advice, or reasons why I should or should NOT do something, please, please share.
Also, any interview tips would be appreciated. I am soooo naive and unschooled in these matters.
I have had some wonderful fashion tips from the only real fashionista I "know", Mrs. Figby. I was sent on a hunt yesterday by Figby for some heeled, close toed, black, pointy toe shoes. Bald Man insists that I am not a real girl because I don't like shopping for shoes. Hours were spent yesterday and even the Princess was enlisted in the shoe search. I need small heels because I just can't wear big heels anymore and the last thing I need to kill myself trying to walk in them. So kitten heels it was. I finally found them. The winners!


Macy's was having a rocking sale this week. I got 2 shirts, a dress and new dress slacks for 75$. I am so proud of my skillz!
Here are the new pieces:

New shirt: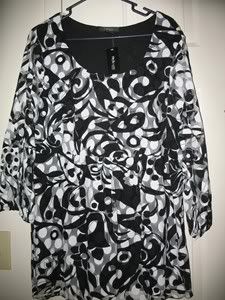 The sleeves are sheer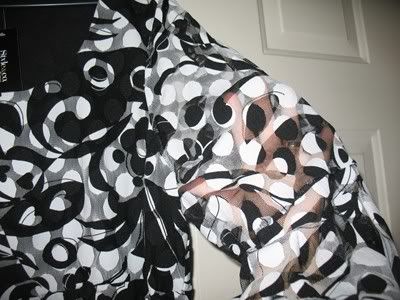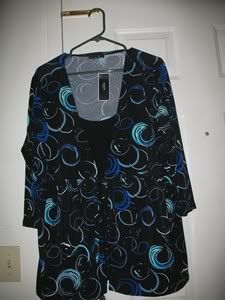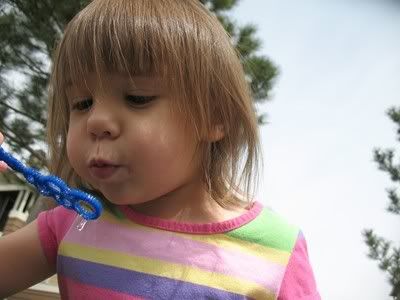 Opps! That isn't a new outfit, but she is darling, isn't she??

New slacks with a subtle, shiny, pinstripe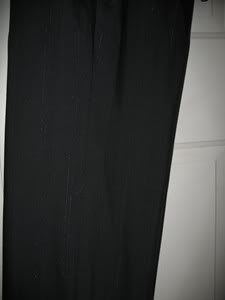 New dress, faux wrap: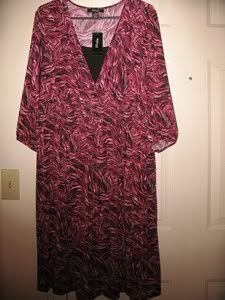 Shucks, my fingers musta slipped again!

I already own this next suit, it isn't the best cut, but I am not spending more money right now. I can wear it with either my white shirt, or a silky blue one. (I promise the blue one matches in real life)




Here are the events:
1.I get off the plane, and go to the car rental, then drive to the corporate offices. I am planning on changing at the airport and touching up my hair and actually putting on MAKE UP there. Before I go to the office. I am not really doing anything there except meeting one or two people, nothing formal, no meetings or interviews, mostly just to get my hotel arrangements.
2. Dinner either night with boss peeps.
3. Next day, is THE day. 8:45 I meet with the big boss and the corporate meeting. Interviews follow.

If none of those outfits fit your idea of what I should wear, give me suggestions. I own more clothes of course, but they aren't new. I have beige dress pants, black dress pants and some business casual shirts, and a navy blue linen blazer. I do have a briefcase I am taking with me.
So give me, 1. 2. and 3. Either what you would wear, or what you think I should wear, or pick an outfit from above.
Sheer nylons or black? And which with each outfit?

Other grooming:
I will de-fur my upper lip on either sat or sun so it is smooth and clean
Eyebrows will be cleaned up
I will shave all the regular places before I go, I don't have a great deal of body hair, so I won't need to do it on the trip again.
I will touch up my gray roots either sat or sun also.
I will be bringing and actually wearing makeup!

Anything else?? Any advice? Tips? I keep having dreams that are half anxiety and half fantasy. Excited and nervous here!