Ah, dearest bloggiest friends, something you do not know about me and my family. Actually when you think about it, I suppose there is very little you know... hmm. At the same time, you know things that others do not. Now that is something to ponder.
Well the part I shall reveal to you now is that the Princess sings! I mean, really, really sings! In fact, two years ago, (before mommyhood) she won a local contest for American Idol and we went to Vegas to audition. That was a serious joke, won't even get into it unless someone expresses interest about the story.
Anyways... back to today. The Princess was asked to sing at a local Baby Fair, and as always, she knocked their socks off. She is such a tiny thing, 5ft nothing and she has a HUGE voice. So I did a tiny video, it is kinda horrid, off sync a bit and then I drop the camera at the end because I was trying to video and hold the Pea at the same time! But here is a way to see a quick clip of the Princess singing.


Video Hosting - Upload Video - Photo Sharing
Then there was the baby fair, The Pea won 3rd Place for her age catagory! We are so proud!
Here is cute pic of the Pea with her medal. What do you think of the flower?? Make fun of it if you wish, but we think it is cute!

Although I think she gave us her real opinion of the Flower headband later!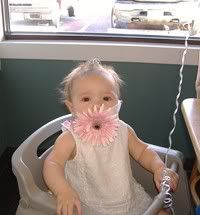 I love my little Pea!
Quick Gramma braggin', our Pea is walking! She just turned 8 months old! Now the Princess walked at 7 months, so the Pea is a bit behind her mama, but still WAY ahead of most kids. This is fun, cause everyone expects me to brag, so I do! Oh, she is also signing more, playing patty cake and so big! She is really amazing. One day soon, I promise to write my point of view on being a grandma, cause I love it.
My other activities right now are posting on two blogs about Homebirth and safety. As a mama who has had four homebirths, and as a midwife who has caught hundreds of babies in safety, I have a pretty strong viewpoint on it. If you want to read those blogs I shall give you the links. Look in the comments for my contribution if you wish. Gotta watch the Leery one though, that mama is Jo too, so you you have to scroll down to the end where I refer to myself as Jo in Utah.
The first is
Leery Polyp
and the second is
Selkie
There ya go! The weekend in Jo's house and more tibits of info about our always interesting family.