I woke up tired on Sunday, I battled and battled with myself about whether or not to attend the Immigration Reform March in Salt Lake City. I finally decided that I could not excuse myself because I was tired. I really feel that the undocumented workers in Utah get the short shrift and that I was obligated to show my support. And honestly, I think a bunch of white people, (no offense intended!) who are ultimately all immigrants, need to be more sympathetic to those seeking the same dreams. Ya, Ya, if you disagree, post a comment and I will defend my position, I have given it a ton of thought.
So here we are marching up State Street to the Capitol, it was wall to wall people, amazing! Over 20 thousand. It was awe inspiring, really!


Here is a couple who came with my favorite sign!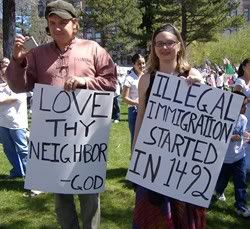 And here I am, with my sign. Look closely, you can see that I am also wearing one of my eagle feathers:


And that my peeps, was my weekend! I came home so hot and tired on Sunday, I could hardly move.