Oh gosh dang it, I was almost done and I lost the whole post!! WAH!
Ok,now you guys get the shorter version, sorry. Basically we found out that the arrest of the Babysitter was a joint effort on the part of the local Police, the U.S. Postal Service,(my mom the attorney says it probably has something to do with mailed porn) and the FBI! We were told by the not very bright and not very nice detective on the case, that at this point there isn't anything that should concern us. Meaning the porn they have found so far doesn't involve young boys. Big sigh of relief on that one. Still upset about it, of course and your kindly thoughts on my behalf have been deeply appreciated. I continue to be more angry with myself than with the babysitter. I guess I feel it is our job to keep our boy safe and not any one else's. But your kindly thoughts have helped me be a bit less emotional and more logical about the part we play in this.
Here is a good place to share a pic of Little Man. The part that is important about this is that this is school picture. Normally Little Man's school pictures are less than stellar. It is bad enough Little Man is retarded, he doesn't have to look it! But this one is nice, so I will share.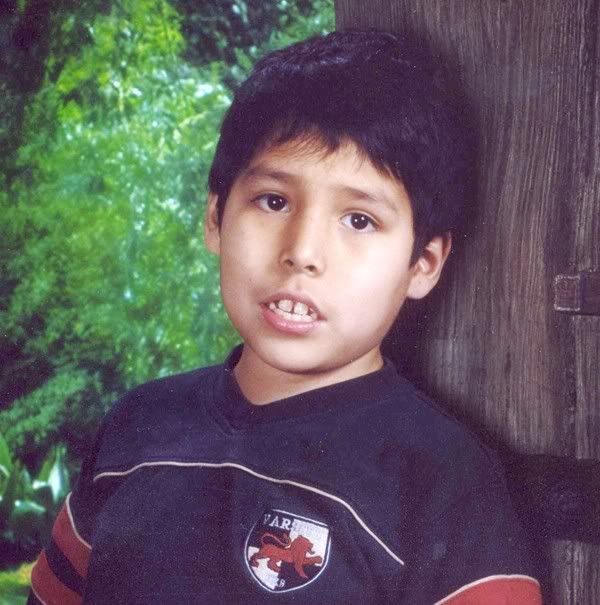 My sweet boy. He is so handsome. And because he is delayed, he still LOVES to snuggle and kiss his mama. His mama feels the same way, so cuddling is a daily thing.
Speaking of things Little Man likes, one of his current obsessions is Dogzilla. Dav Pilkey wrote it, along with the Captain Underpants series. They were a big hit at our house. This is the original picture out of the Dogzilla book.
See how Dogzilla is licking up the barbeque?
Now with Jo's amazing new talents at Photoshopping!
Little Man was quite amused with his mother's newly learned skills.
The week is over and I am soooo glad, this is not been a great one and I need unwind. Watch the coming days for Jo's opinions on foster care, Pygmy Child's new guy in her life, my obsession with
Cute Overload
and other timely and interesting topics.