Do you want to know what happened while Little Man was in the hospital?
This!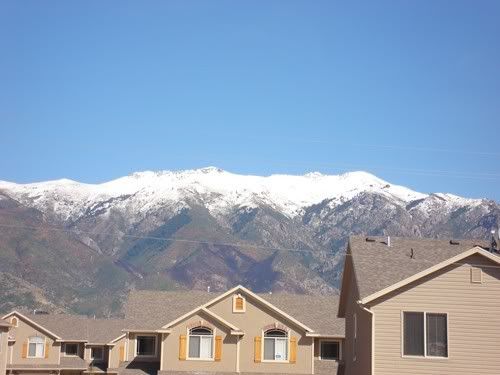 Driving to the ER it was warm and getting warmer, I think it hit near 90 the day he was admitted. But while I was slowly going crazy in that hospital room, Autumn whumped itself, plunk! right in the middle of Utah. It SNOWED for heaven's sake! So now the days are cool, some days barely warming up to the mid 50's. Many days in the high 60's. Warm, sunny days with the crisp note of Fall playing as an undertone. The colors are changing in the mountains, (see the above pic) while down here in the valley, the cottonwoods are just beginning to yellow at the tops of the trees. But you can feel it, Autumn has arrived. And it did it while I wasn't/couldn't watch.
Update on the Funny Farm.
Little Man has caught a cold. But guess what? I gave him a Dayquil and sent him off to school anyway. He is just a little sniffly and man oh man do I need some time off!
Friday he had two doctor's appointments. He was sooo good at the first one. And sooooo awful at the second. I got myself choked, hit, bit, scratched, etc. I was not too happy driving home. I buckled him in his carseat and told him NOT to talk to me. Good move. I wasn't nearly as furious by the time our hour long drive was finished. The good news from his GI doctor is he is not losing weight at a furious pace. Even though he is continuing to refuse his formula, he is getting enough calories to either maintain or not lose weight really fast. Deep breath! Yay.
He is doing well in school and I am so relieved. It makes me wonder if that is what was going on with his violent outbursts? Now he has his routine back and he is getting on the bus so happily!
Sunday was church, and then I made lasagna for the ravening hordes that descend upon us on Sunday afternoons. I got some sweet Pea time and that made me happy. Her loves her gramma sooo much. Ditto.
Who said mondays stink? Mondays rock! Tank is off to his first day at his diesel machanics school, Bald Man has gone to work, Little Man is gone to school and blessed silence reigns in my home. I am working on a needle felted witch and perhaps I shall spend some time doing that today. Otherwise, just a couple of errands and the day is mine til this afternoon.
Hope the view from your window is as pretty as mine and your monday as full of some sweet time.