The best laid plans of mice and men, often go awry
Ah yes, my plans of yesterday. I needed to drive Princess to work and after I did that, I was on my way to take myself out to lunch, with plans to have a tryst with my pillow afterward. I pulled into the parking lot at Red Lobster and my cell phone rang. It was girlfriend, she needed a babysitter. It was important. Ah well, I wasn't really doing anything anyway, was I? Nope, not really. And besides, spending time all by myself with my June Bug isn't exactly torture, as you can tell.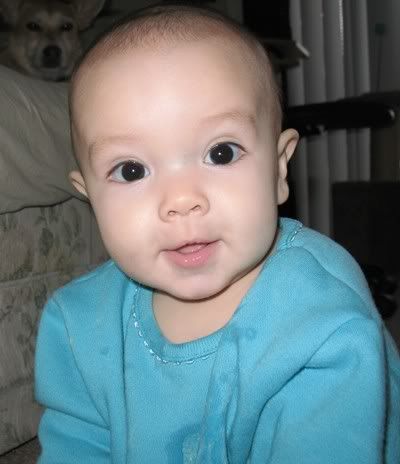 And the last one, which is titled, Gimme That Camera Grandma!



And my promise to not call any doctors? I kept my promise, but that didn't include telling the Universe to NOT have anyone call me. Dr. Very Nice, Little Man's GI called and well, if you have a doctor call, you better take it. It wasn't like I could say, "Um, I decided I wasn't having any medical discussions today, please call me back tomorrow." So the plan is for Little Man to be admitted on the 14th, with the placement of the PICC line that day, and the surgery for his G tube on the 15th. Poor Lil guy, that means he will not be allowed to eat or drink for two days in a row. Not that he eats much, but he really enjoys the room service at the Sick Kids Hospital, and he isn't exactly a person you can reason with, so it will be fun, fun, fun for me!
Today, I have plans for shopping, so we shall see if anything comes up to discombobulate my schemes.
For your viewing enjoyment, the latest addition to the family. I will have to come up with a blog name for her, but for now, she is just the new baby. 8lbs, 12 oz! Good sized. Niece ended up with a c-sec after more than 24 hours of labor and no progress.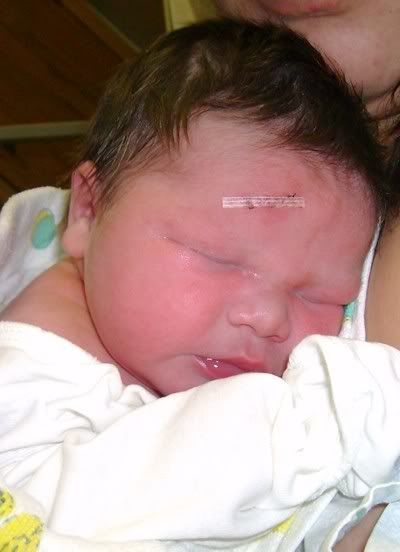 See the owie on her forehead? The doctor CUT her head when he was doing the c-sec. Good thing I am not around or I would have smacked him for that! She is darling and I wish with all my heart I was there to cuddle her.