We had an appt at Sick Kids R Us yesterday and all went well. Little Man's feedings are going very well now, finally. We had tried to give him 200mls (just under a cup) over an hour at each feed, but it was too much. Then we moved down to 100mls over an hour and we got the same reaction, crying, bloating and a lot of pain. So now we have moved him to continuous feeds at 45mls over an hour.
I am seeing a boy I had forgotten even existed. He is smiling and laughing again. After thinking about it, we realized very sadly the last time we really saw him happy and laughing for more than just a minute or two was before Thanksgiving. He is such a complicated child and sometimes we don't stay on top of every aspect of his care and needs. He had another good day today, so we are wondering if practically starving for more than a year affected his mood. He also seems to be sleeping better. This is his third night on continuous feeds, so we shall see.
Yesterday after the boy's appt we went to Build A Bear. I had heard from some other g-tube mommies that they will sew in a tube for your child. I had gotten an extra tube from Child Life at Sick Kids R Us so we requested they sew it in on the animal Little Man picked. It is a stegosaurus but we call him a Tube-a-sarus. Little Man was a delight to take there and he so enjoyed himself. The sad part was how surprised I was at his sweet behavior. It has been a very long time since I haven't had to battle him tooth and nail for just about everything, even stuff he is supposed to be having fun doing. Not yesterday. I spent more than I should have, but I do not regret it!

Look! A smile!



Here is Teddy the Tube-a-saur getting his tube



A hug for Teddy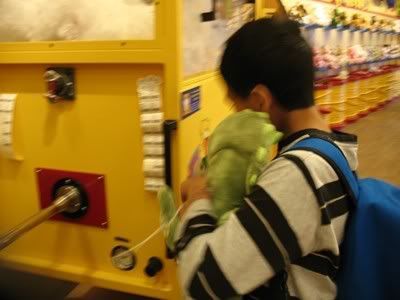 Teddy getting his first "bath"




Another smile, can you believe it??




Giving Teddy his name (this took some time, but Little Man was so patient and cooperative, it blew my mind!)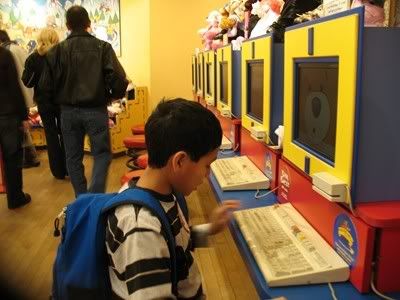 Getting dressed.



The final product: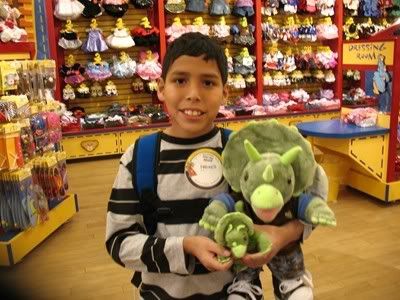 The best part? I enjoyed it too. On one hand, I wish it weren't such a surprise that I had fun with him and that he had fun too, and on the other hand I am so incredibly grateful for being to enjoy this with him. Build a Bear rocks in my book. They were wonderful! Patient and so very sweet. He even got a sticker for being a special and brave boy. And he is. His life is filled with trials, but he is always trying hard to push past his limitations. He really is a little hero.

DME= Durable Medical Equipment, or the various tubes, tapes, and gee gaws that are necessary for the very un natural way of feeding our son. Today, Little Man went back to school, but I had to go pick him up early because the one extension we had basically broke and the other extensions they sent us were the wrong ones! He couldn't go through most of the day without being fed, so I had to go get him. Home health was able to rustle one up in Salt Lake City and drove it to our house. This was our first DME disaster, but I am sure it will not be the last.
I can hardly wait for tonight and tomorrow to get here to see if he sleeps well and is in a good mood. Wouldn't it be wonderful if his g tube helped him be a happier boy? We would all be thrilled.