I did it! I ran around like a crazy person on Christmas Eve and I found out my MACC point. (minimal amount of Christmas cheer). I found out we can get our tree two days before Christmas, and it still smells so wonderfully piney and the littles had a grand time decorating it. I found out I can NOT bake dozens and dozens of cookies and homemade candy and everyone was fine, just fine. Surprisingly, the world did not stop spinning and no one from the Church came by to revoke my Molly Mormon pin either. Who'd a thunk it? My minimal amount of Christmas cooking besides Christmas Dinner includes just one pan of Jo's Almond Roca. My kids really associate that with Christmas. I had asked the kids if they would forgo their stockings, but there was loud outcry against that heresy, so I dropped the idea, and instead just streamlined what went in them. The kids were all grateful and got along wonderfully.
The best part? Of course it was the Littles. The Pea was just so excited that Santa was coming and Little Man? He really, really got it this year. I took him to the Dollar Store and he got a present for everyone. The part he was most excited about was wrapping them. It was really wonderful to have him very slowly have me spell everyone's names while he wrote them on the tags. He has come such a long way. Of course I had to keep reminding him that the sticky side of the tape goes down. Down on the present dear...He woke up Christmas Morning and for the first time realized Santa had been here and that there were presents for him. It was really neat. June Bug mostly just enjoyed chewing on the paper.


I am trying a new option for doing slide shows, I hope it works well. It is from Slideroll.com.
And now, a Pea story. If you ask Pea who Grandma's stinker is, she points to herself and declares loudly, "Pea is!" Oh yes she is!
Check this picture out. We have English Christmas Crackers with our Christmas dinner every year and the Pea thinks they are neat. Check out where the arrow is pointing to though. A dish of butter.
I was finishing up dinner, making gravy and I went to put some butter on the veggies and I looked at the table, and I could NOT find the butter. Ah! I called to Princess and we both realized, SOMEONE had absconded with it! We went looking.
Lo and behold: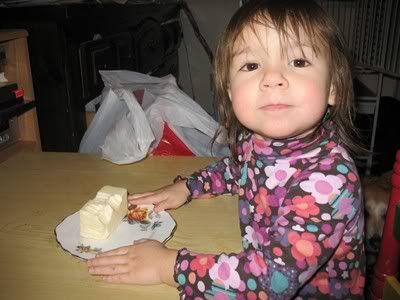 Sitting at her little table set, was the Pea, looking quite pleased with herself I might add.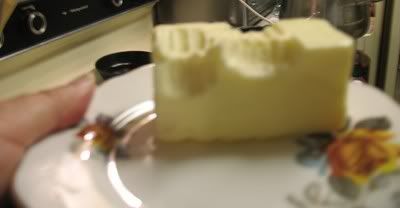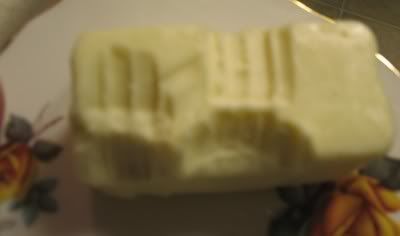 She likes butter, what can I say??? And she is her mother's daughter, without a doubt.
Happy Holidays to all of you. Little Man is recovering well as far as we can tell. If he would eat something, we would be happier, but ah well, we can't have everything, can we?