***updated
We are in. No PICC line, thank goodness,just a regular IV. Not that that was easy. A couple of people got hit and someone (me) got scratched and choked. AND they just came in and said they are going to have to draw more labs. Sigh. Poor lil guy. He is having a tough time. ***

I thought these pictures were so beautiful with the clouds just half way up the mountains.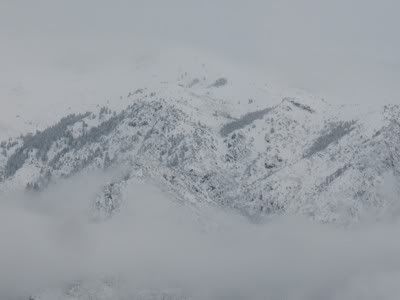 And so, the next event begins. I couldn't sleep last night, and it was after 3 in the morning before I was finally able to do so. I didn't feel particularly worried, but obviously I am.
We are off the Big City Sick Kids Hospital for most of the week. His actual surgery is tomorrow, but they start antibotics today. When they called this morning, they were talking PICC line again, so I am once more at a loss to what is actually happening. I am scared and worried. I need to get my stuff together. The good part is that Bald Man is taking the night shift tonight so I will be back in my own bed tonight. The usual routine is for me to spend one night and then for Bald Man to take a spell the next. That way neither of us get too tired. Well actually that way I don't get too tired. After a few nights of no sleep I turn into something really scary and depressed.
If you are one of my local bloggy friends and want to stop in or call, please email me and I will give you the info you need to do so. Any and all prayers, good thoughts, burning joss and of course blog comments, will be accepted gratefully. I guess I should get off the computer, Bald Man is hustling around packing and I need to stop avoiding the inevitable and just do it.
Here is some more Holiday Cheer for ya!