First up we have Katie from a view from the hill She is discussing knitting and yarn! Delightful colors of yarn!

Next, we have a newbie, Torina from Busy Intersection has something very important each and everyone of us needs to take seriously and take action. If you have a child, love a child or know a child, this means YOU! Thanks Torina.

Another newbie, Jill, proves food doesn't have to beautiful to be appreciated. Go on over to Thou shalt not whine to be entertained and inspired.


Fix-it Friday
Cinnamon Rolls!
You really need to read Jill's post before you go on to read mine. I will wait....
hmm..... okay, are you ready now?
Take yeast dough, although I wouldn't suggest Jill's dough for rolls. You need rollable dough and I always add a couple of extra tablespoons of sugar to my dough when I am making these rolls. You can use frozen dough from the supermarket, or do as I do and make your dough in your handy dandy bread maker! We bought this expensive breadmaker years ago and it still works wonderfully! It even has a dough cycle.
After the dough has risen once, punch it down, and you are ready to begin.
Assemble ingredients:
cinnamon, butter at room temp, dough, brown sugar, and a little flour.
I spray the inside of the pan before I begin so it won't stick.
melt about half a cube of butter and pour it into the bottom of the cake pan.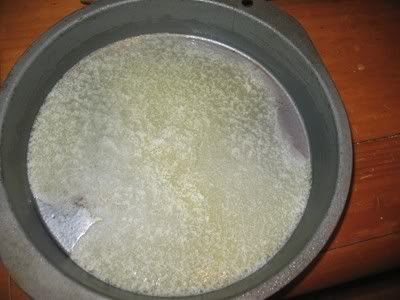 Sprinkle brown sugar into the bottom of the pan. About 1/2 cup or a bit more. (This will melt together and make a fabulous caramel on the top!)
Lightly flour the rolling surface for the dough
Roll out dough, I roll mine really thin, because I like lots of layers. If you like thicker, doughier layers, don't roll it out so thin.
This batch of dough has 3 cups of flour in it. I used 1/2 of a cube of butter spread all over the top of the dough. (This is NOT a low cal recipe. Get over it.)
Sprinkle cinnamon.
Sprinkle brown sugar on top
Roll it up lengthwise
Slice into rolls (this is up to you. If you make them really thick, this will make one pan of goodness. Thin slices will make two pans)
Place in pan
Let rise until double
Bake at 350 for 30 minutes.
Place plate on top of pan IMMEDIATELY
Dump upside down and let sit for a minute. Remove pan and TAADAA!!!
I hope you enjoy all this delicious goodness. First from other blogs and then from my technique for making cinnamon rolls. If you lived nearby, I would SOOOO share with you!