I suppose I should explain how we recognize family in my culture (Lakota).
Family and relations are generational. Knowing who is in your family is very important. Particularly, because marrying within the family, no matter how distant the relationship is TABOO!
If someone is related to you and is in your own generation, then they are your cousin. We don't do first or second, or anything. A cousin is a cousin, you are related. Very easy. In my own little family right here, these three?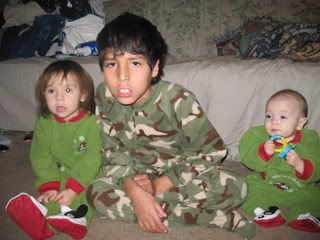 While the Euro definition would have Little Man be uncle and the girls nieces, in our world they are cousins, and that is what they know themselves to be with each other. The Pea loves that she has a boy cousin, because Dora has a boy cousin too!
If someone happens to be one generation ahead of you, they are your aunt or uncle.
So my first cousin, we call each other cousin, but my kids call her Auntie Deer. Her children call me Auntie Jo and my kids and her kids call each other cousin.
Two generations removed? Easy, two above means they are your grand parents and two below, they are your grand children.
So with Little Bear, he will call me Grandma or Unci (Lakota for grand mother) and when someone else asks how I am related, I say I am Little Bear's father's auntie and Little Bear's grand mother.
So when I mentioned gramma got to hold him? That would be me! And I have been bequeathed with the magical gramma touch and I was able to get him to stop crying!
Now that I have 'splained it, I hope this is enlightening and expands your cultural horizons!
P.S. If this explanation is confusing, please say so and I will do my best to 'splain it better!