***First, a heartfelt thank you for your warm and kind remarks. It helps,really.

Come along with me on my walk.




I feel very blessed that the weather here in Utah is still in the sixties, so I am able to continue to trail walk, and that the trail near my house is just so dang beautiful!

You come around a bend, and there are some signs ahead. They look very innocuous.




They are NOT!
First!




Nice, huh? I can't tell you how many times I take my earphones off so I can see if I can hear any pumas rustling in the leaves. I carry my phone, but tell me, if a puma was chewing on me, would I be able to dial 911? I am not so sure.

Next half of the sign:




You guessed it, it is the beginning of the Hill of Pain. My nemesis.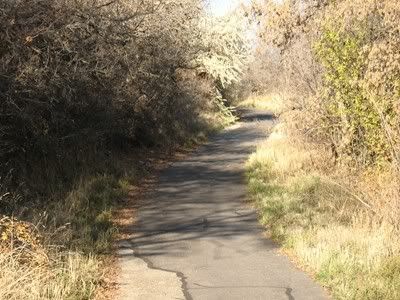 And more:




But we have come to an understanding, my vaunted enemy and me. I don't try to go too fast and the hill doesn't kick my butt. Win-win.
Lest you think it is all hills and cursing, it isn't.




My newest mojo for exercising:




A new pair of not too cheap real cross training shoes. I figured if I spent the bucks, I would have to justify it by using them.

My very, very favorite part of my walk.




The Hill of Pain on the downside! Whoot! I survived another day.

I was chatting with Pygmy Child today, and when I mentioned the Hill of Pain, she thought I was talking about a setting on the exercise machine in the gym. I like it.
What if the settings went like this?
1. Sissy La-La
2. Wimp, can't you do better than this?
3. Now you look like you are almost exercising
4. Try Harder
5. Show Off
6. Hill of Pain
7. OMG What are you thinking?