No one has complained about my Mountain mondays and all the comments have been positive, so for your viewing pleasure, the mountains outside my window. I could edit out the powerlines and the new townhouses, but I've decided that the truth is valuable, even without being prettied up. So this really is the view from my window.
This morning the Pea is over visiting while mommy is at the doctors. Cute shields in place? I would hate to find out that some bloggy friend's guts had exploded all over from cuteness overload.
Don't you LOVE her little piggy tails?? Oh they slay me. I adore them.
And another. This is the Pea signing bird while she gazes raptly at our lil birdie.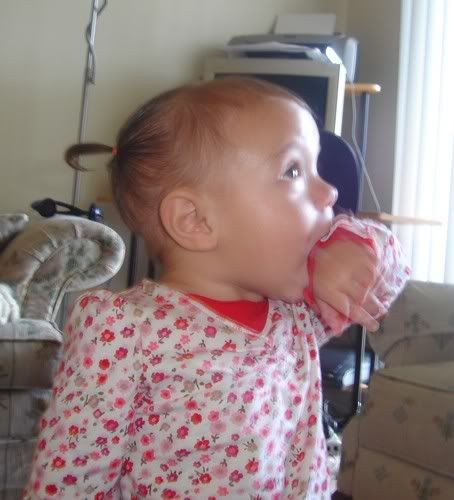 Her signing isn't precise, but it is soooo charming!
Little Man has a doctor's appt this afternoon with his shrink, we are praying for some help with his sleep. It isn't as bad as it can be, but it is NOT good. He is not falling asleep until 10 or 11 and then is up early. Bald Man and my relationship is suffering from having NO time alone together and it is getting stressful.
So a nice long drive to the city. How in heaven's name did we survive parenting our other children without portable DVD players??? I know not how.
A funny for the day:
Little Man picked up a toothbrush we had given Meeko to chew on, turned it all around, looked up and said, "how do you turn it on?" Yes, we have 21st Century children! Happy Mountain Monday to all of you!