And yet another Mountain Monday is upon us. I think I shall leave the pic for the end.
Instead, let us first discuss how fun it is to watch people watching you! By this I mean my stats counter. Fun thing. I have way more traffic than I expected. There is terrific little area where you can read how people got to your blog if they were referred by another webpage or google, or bloglines.Pink Elephant's Randomizer has given me lots of hits. I hate to see what happens when Nov is over!
The weird things people type in google, I mean really! Torturing rats, mormon funeral potatoes, breaking up with your girlfriend. I think I shall start posting the most interesting one of the day. Let me see.... Oh boy! This is by far and away the most interesting today! Fussy! of Nablopomo no less, was peeping in on me today! Must be checking to see if I have been a good blogger, (I have!) and been posting every day of November. We shall see if I win any of the good prizes from randomly chosen rule following November bloggers.
Other interesting tibits about stats. Global! Wow. I have a fair smattering of people from Canada, and Australia even. One Hawaii visitor and it seems I might have a regular reader from Dubai! Way cool. Any of you lurkers, feel free to come out for a brief moment in the spotlight and say howdy! We don't bite very hard and most of my readers are harmless.
I am shamelessly addicted to checking my stats counter, many times a day. It is fun to watch those who are watching me. Maybe I will ask for an upgrade for Christmas??
So your reward for hanging in to the end. My beautiful mountain, picture taken from my window.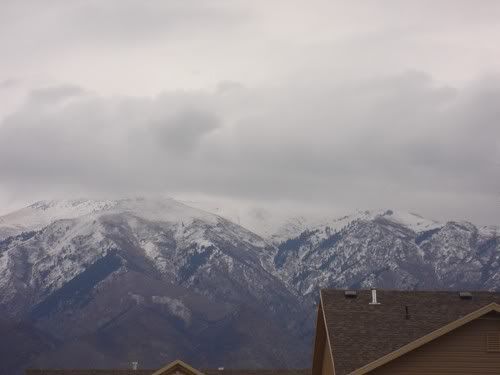 Happy Monday to all of you. I have grocery shopping in my future today. Seems as though all these folks have eaten us out of house and home. Turkey soup for dinner with homemade noodles no less. Yum.