Say it with me... Mountain Monday! Ooooppsss sorry, a little too much Dora and Deigo. But still, it is Mountain Monday. But I think I shall save the mountains still the end of my post, just to switch it up a bit.
First. Big sigh of relief, Little Man wore his coat today! Yay! I wrote a note to the teachers saying they were not to work with him on getting him to put his own coat on, since the repercussions of his refusing to wear it actually impacted his health. I also mentioned he wore other clothes if they really felt the need to work on getting him to be more independent with his clothing. (A little sarcasm, but I couldn't help myself, really!)
Second, Bald Man got his work van running! Yay again! I have my mini van and my freedom back. Of course that means I get to babysit for Pea today, but there are worse things in life than being snuggled by the cutest 15 month old in the whole world! Here she is, going shopping with Gramma after a quick trip through Mickey D's. What a big girl! Chicken nuggets and apple juice, with a straw! (Her mommy won't let her have apple juice undiluted, but gramma will!)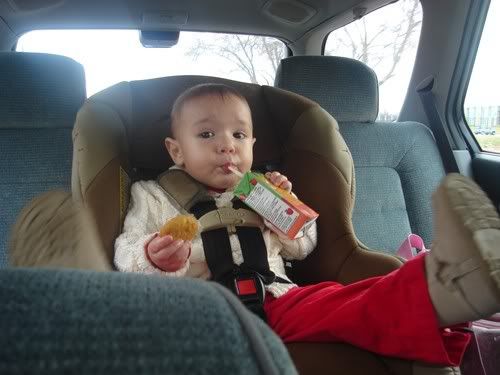 Her feet in her cute boots are blurry cause she kept kicking them, non stop. That kid is cuteness in motion.
Our new kid is doing very, very well.
Meeko is stepping up very nicely more and more. Nipping less and less. She hopped off her cage last night to come hunt me down for some loving. Of course she got it. What a cute birdie she is and she is adding a new note of joy and delight in my daily life. She even gives me kisses whenever I ask for them now. So cute!
Okay, Okay, what you have all been waiting for! My beautiful view! Lucky lady, aren't I?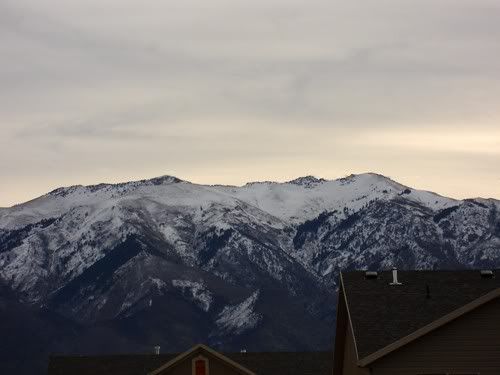 Hope all your mondays are good ones.